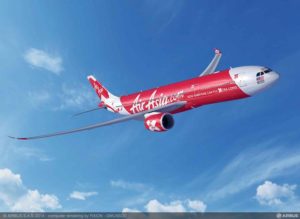 AirAsia X Cabin Crew (Online Application)

Job Description

AirAsia X Cabin Crew Hiring Event (By Invitation Only)

Open for: Malaysian, Korean and Japanese nationalities.

Always wanted to travel and experience work at 34000 ft?

AirAsia X Berhad (AirAsia X) is a leading long-haul, low-cost airline operating primarily in the Asia-Pacific region. Over the years, we have flown to 26 destinations across Asia (Japan, South Korea, China and India), Australia, New Zealand, United States and we will be flying to Europe as well!

The AirAsia X Cabin Crew is an iconic brand, from our red uniform to our warm, bright smiles. We pride ourselves in being a breath of fresh air compared to other airlines' conventional cabin crew. We're fun, hardworking, and committed to making AirAsia X the best airline.

If you've been thinking about a career in the skies, here are our core requirements to fly with the AirAsia X Cabin Crew:

Great Personality

To us personality is everything. We want fun, team players who are positive, outgoing, love to work and serve people. You must show determination, persistence, a Make It Happen attitude with an inexhaustible smile, boundless energy, and great love for working with an iconic brand.

Even though we take fun seriously, hard work is second nature as well. In reality, you'll be on your feet for hours, on long sectors, working irregular hours, handling conflicts and issues, cleaning the cabin and toilets, and working at the gates.

Being firm when needed is very important. Key elements to this job include giving instructions during emergencies, calming a tense situation, or enforcing certain rules and regulations.

Of course, we want it all – we want a great personality with great looks too! But we're not looking for catwalk models that do not care about giving good service to our guests or being nice to their colleagues. AirAsia X is not just an "employer", because we see ourselves as "family".

Age is nothing but a number

If you're 18 years and above, we want you!

Working hours

As a Cabin Crew, your working hours are based on productivity. The more shifts you take on, the better your earnings.



How should I look?

At AirAsia X, we pride ourselves in giving our Cabin Crew the freedom of being themselves. You can style your hair as you like, as long as it looks presentable.

Yes, good looks are important but good grooming is essential for an AirAsia X Cabin Crew member. Here's what we look out for:

Radiant skin

No visible scars or tattoos while in AirAsia X Cabin Crew uniform

No braces

Weight has to be proportionate to height

Height:

Ladies: minimum 157cm barefoot

Men: minimum 170cm barefoot
---
Are you ready to fly with us?

Please refer to the requirements below to prep for your interview session. Good luck!

Interview Preparations:

1. Please bring along the original & a copy of Sijil Pelajaran Malaysia (SPM) with CREDIT in English or any substitute credentials, pass in C Bahasa Malaysia, and one other credit in another subject.

2. High school diploma or equivalent for Non-Malaysians.

3. Original and copy of MYKad / Passport for Non-Malaysians.

4. Original and copies of vaccination digital certificate

5. Updated resume

6. Original and copies of certificates of higher education or equivalent.

7. TOEIC with 650 score validity within 2 years (substitute if SPM English not credit)

Dress Code:

Office Attire & females to come in a knee-length skirt and be yourself!

** ONLY SHORTLISTED CANDIDATES WILL BE CONTACTED VIA EMAIL FOR AN ASSESSMENT WITH US AT KUALA LUMPUR**

ENJOY YOUR INTERVIEW SESSION WITH US!

We are all different – one talent to another – that is how we rely on our differences. At AirAsia, you will be treated fairly and given all chances to be your best.We are committed to creating a diverse work environment and are proud to be an equal opportunity employer.

Search Firm Representatives – AirAsia does not accept unsolicited assistance from search firms for employment opportunities. All CVs / resumes submitted by search firms to any employee at our company without a valid written search agreement in place will be deemed the sole property of our company. No fee will be paid in the event a candidate is hired by our company as a result of an agency referral where no pre-existing agreement is in place.