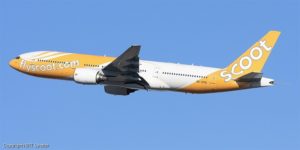 ☆ SCOOT
Important Notice:
• For safety reasons, your height should be at least 158cm (for female) or 165cm (for male);
• Minimum age of 18 years old;
• We are looking for Junior College (TANDAI) holders or Degree Holders from a recognized University;
• Ability to converse in English is a must;
• Willing to relocate to Singapore;
• Target to join date is April'15
☆ NOKSCOOT
Important Notice:
• For safety reasons, your height should be at least 160cm
• Female with a minimum age of 18 years old;
• We are looking for Junior College (TANDAI) holders or Degree Holders from a recognized University;
• Ability to converse in English is a must;
• Advantageous to speak Thai, Mandarin and/or Japanese;
• Willing to relocate to Bangkok, Thailand
• Target to join is April'15
APPLICATION PROCEDURE
 As the said recruitment activity deals with both of Scoot and NokScoot, preference applying airline should be notified in the form.
 1 Download the form (excel) from HERE and fill it up.
2 Send the completed file to saiyo@avion-air.com by e-mail.
DEADLINE of Application
Feb 27, 2015 (Fri)
AGENDA of Screening Process
After closing the deadline, invitation of web-video-interview test will be sent to the applicants who cleared the assessment by e-mail from the head office of Scoot. Please follow the invitation and go in for the interview test accordingly.
CAUTION: The deadline may be broken off if the numbers of applicants reach to the designated amount.
Candidates who cleared web-interview will be invited to assessment center held by recruitment team from head office at around Mar 7, 2015. However, this agenda may be changed due to future status. Every detail will be informed to the candidates who passed the web-interview.
問い合わせ先: TEL 06-6136-3162 株式会社A.R.T.内 スクート・ノックスクート採用チーム
*シンガポール航空100%出資のスクートが、採用を再開しました。
前回と違う点は
1、短大卒でも応募可能なこと。
2、シンガポールベースのスクートと、バンコクベースのノックスクートの両方同時に応募できること。